Welcome to Behest Software
Behest Software is the trading name used by Steve Belleguelle for creating bespoke software and selling his own computer applications.
Drawing on more than thirty years experience in software development, Steve is able to create bespoke software tailored to your specific needs.
To find out about Behest Software and Steve's background, read more.
Sermon Recorder for Windows
As well as developing custom software, Steve wrote the Sermon Recorder for Windows in 2009 which continues to prove very popular.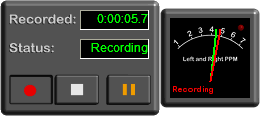 The Behest Sermon Recorder for Windows is an MP3 recorder that is great for church sermons but can also be used for recording meetings, speeches, teaching, lectures, lessons, interviews and any other type of speech. On top of that, it can also be used to record music.
Visit the Sermon Recorder page to find out more.